Insurance brokers are the middlemen between the insurance companies and the customers. They are not tied to any particular companies or other entities. So, in order to succeed with potential clients, brokers need to find their own way of doing business in an organized and systematic manner. Insurance broker software takes care of that part. They offer cutting edge assistance in all their day-to-day work routines. Most of the top-rated insurance broker softwares core objective is to make brokers robust and more productive in what they do.
Let's dive in to the details!
What is an insurance broking software?
An insurance broking software is a tech product that helps insurance brokers to deal with their daily work routines, help them systematically record their prospects, organize and track every stage of a policy and manage their claims rationally and precisely.
What is an insurance agency management software?
Insurance agency management software helps insurance agents and agencies to manage their business in an organized manner.
These software solutions provide full-bodied administrative functionality with its customer-centric features. The primary objective of an insurance agency management system is to offer an inclusive solution that takes care of the mainstream tasks of an insurance agency.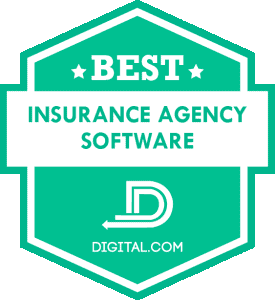 Looking for an award winning insurance agency management software?
Explore the features of Sibro now
What are the major constraints for choosing an insurance broker software?
Modern insurance brokers are very keen and precise in what they choose. They don't always go for the flamboyance selections but only choose software that is exclusively developed for insurance brokers. The decision is made upon considering the factors such as:
Whether the software can increase the efficiency and employee productivity on a continuous basis
Whether the software can smoothly track and manage all the policies and claims
Whether the software can help you to draft RFQ faster
Whether the software can help you to easily reconcile your commission statements
Whether the software allows you to get your IRDAI Reports with a click of a button
Insurance broker softwares that satisfies these attributes are considered to be the best ones and they are the first choice of selection for most of the successful insurance brokers.
Best Insurance Broker Management Software Solutions for 2021
What are the best CRM softwares for insurance agents?
The best CRM softwares must automate and abridge the entire insurance workflow for insurance agents. Most CRM vendors incorporate fancy add-ons and features to make their CRM look appealing. But most of the agents who buys these products only use the basic features and the rest are left untouched. Hence, you are made to invest your money in a software and get access to features which they are never going to use.
But if you can select the best choice, you can increase your sales by eyeing on customers from generating leads to closing the sale and maintaining customer loyalty. As a result, you can save the most out of your time and effort with the help of these CRM softwares. Here are some of the best insurance CRM selected by Softwareadvice.com.
Products most recommended by our advisors over the past 30 days.
How do insurance brokers find clients?
Finding your potential clients is always a tedious task in the aggressive insurance broking industry. It requires the right mix of talent and soft skills to win potential business. Here are some of the tips you can practice:
Sharpening your niche
Setup/Update your website
Build more and more connections
Own an insurance broker software
Practice consistent social media presence
Major groundbreaking tips that will help you to win new brokerage businesses!!
How do I set up an insurance brokerage firm?
Becoming an insurance broker is always a win-win scenario in terms of choosing g a successful career. In order to set up an insurance broking firm, you need to go be aware of the eligibility criteria for becoming an insurer broker in India.
INSURANCE BROKER SOFTWARE
SIBRO offers more than you THINK!
We waited until we could do it right. Then we did! Checkout the incredible features of Sibro, the best insurance broker software for insurance broking companies in India, Philippines and Botswana.
SEE ALL SIBRO FEATURES
Best Insurance CRM Software for Brokers
Looking for the best IRDAI compliant broker software?