Sibro has been named as the Best Insurance Agency Software Company of 2021 by Digital.com. The research and analysis done by the experts at Digital.com took a 40-hour assessment of over 40 different insurance solutions and evaluated different systems that use automated, integrated processes to manage policies, claims, billing, and commission.
Sibro-The Best Insurance Agency Software
Sibro is a simple to use, end to end, insurance broking software that helps insurance brokers to record their prospects, follow-up clients, draft RFQs/quote slips, prepare quote comparisons, record policies and receive payments and eventually deliver policies and endorsements to the clients.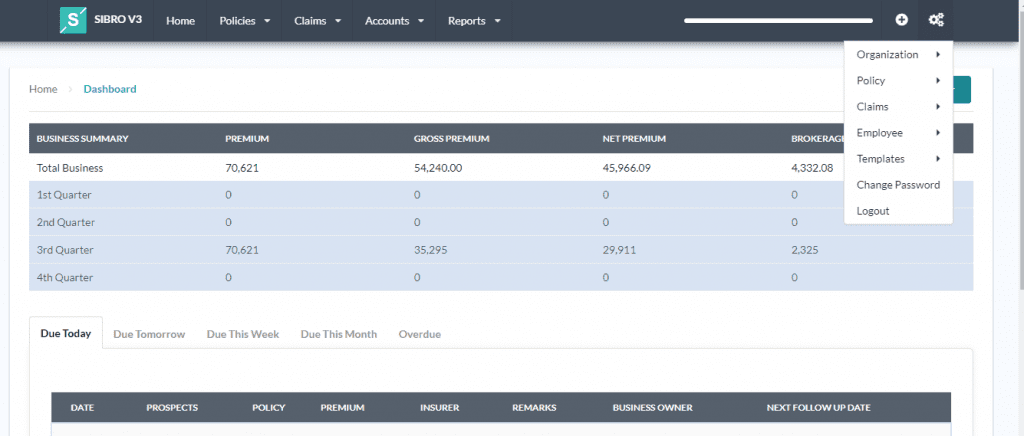 Sibro offers exclusive features such as auto-reconciliation, recording lost businesses for future evaluations, adding custom fields etc. In claims management, Sibro assists you in handling the entire process from claim initiation to claim settlement. With the help of Sibro, you can also record claim intimations, create documents received checklist, send those received documents to the claim processor and do periodic follow-up until it gets settled or repudiated.
SIBRo Features
So Customizable, So Easy
Checkout the amazing features offered by the best insurance agency software.
Draft RFQ 10x faster
Create and send RFQs to your clients directly from the software within a single click.You can also change the inputs whenever you want.
Track your policies and claims
Organize and track every stage of a policy; from
prospects & renewal followups,and delivering policies to customers in order, their endorsements, and more
Email, WhatsApp and SMS customers and insurers right from your software
You can send any communication messages,emails instantly to your customers easily via Sibro.
Easily reconcile your commission statements and get your due commissions
Sibro reconciliation feature helps you to easily find any irregularities or any mismatch in the amount raised.
Easily customizable by yourself
The entire software offers different customization options. You can create your own customized data entry fields, drops downs etc as per your own requirements.
Create professional quote comparison
sheets
Record and compare the quotations and automatically create quote comparison sheets for you.
About Digital.com
Digital.com reviews and compares the best products, services, and software for running or growing a small business website or online shop. The platform collects twitter comments and uses sentiment analysis to score companies and their products. Digital.com was founded in 2015 and formerly known as Review Squirrel.
BEST INSURANCE BROKER SOFTWARE
SIBRO offers more than you THINK!
We waited until we could do it right. Then we did! Checkout the incredible features of Sibro, the best software for insurance broking companies in India, Philippines and Botswana.
SEE ALL SIBRO FEATURES
Best Insurance CRM Software for Brokers
Looking for the best IRDAI compliant broker software?