This article will brief you on all you need to know about insurance broker management software and how this tool helps insurance brokers to achieve greater heights in the insurance industry. This information will be an added advantage for your insurance career. Make sure you read this!!
What is insurance broker management software?
Insurance broker management software is a tech tool that helps insurance brokers to manage their incoming prospects, policies, claims, and endorsements in a systematic approach.
History of insurance broker management software?
It is believed that the insurance broker management software is another byproduct of the technological revolution that remodeled the face of the insurance industry. The initial outcomes of this evolution when cross-bred with the human futuristic perception, the insurance broking industry started to see new heights. At first, these software are only used for managing basic activities such as storing policy details and claims records. But as time progressed, many tech giants started developing similar softwares. These actions unleased never-ending brainstorming sessions and collective discussions by insurance tech experts to improve the features and user-friendliness of these developing insurance broker management softwares. The results were nothing but magical. What you see now, are the collective results of historical experts who dedicated their careers to a much better and effortless insurance broker management system.
Difference between insurance broker management software and insurance agency management software?
Well, most people always wonder about the difference between these two. Technically there is no noticeable difference between these two. Both these software help people to optimize their existing business flow and assist them in running their operations effectively.
But considering the fact that being a broker you can sell multiple insurer's policies and being an agent you have to stick with your solo insurer; there are functional differences in the software for handling those attributes. Expect that both the software remains almost the same.
What are the uses of insurance broker management software?
Insurance broker management software will help you to perform the following functions:-
The dashboard of the most efficient insurance broker software will give you an overall picture of your entire broking business recorded in the software in terms of prospects, quotations, policies, claims, and endorsements
The software will help you to manage and track each and every stage of a policy; starting from prospects management, upcoming policy renewal, client follow-ups, creation of quotations and quote comparison sheets, collecting payments, preparing invoices, reconciling invoices, delivering policies to the customers till managing their endorsements, if any.
The advanced filter option provision will help you to filter any required data so easily and effortlessly
Most of the advanced software will have features such as language translation, color themes, etc. that can enhance user-friendliness
Other major features offered by insurance broker software are auto-reconciliation of invoices, TPA integration, and instant statistical reports within a click of a button
Take Full Advantage of Your Insurance Broker Management Software
Check out the incredible features offered by insurance broker management software specifically for insurance brokers and agents.
What are the pros and cons of an insurance broker management software?
Considering the current usage of different brokers across the globe, it is very evident that insurance broker management software is offering indefinite benefits over its disadvantages.
Well, instead of using the word "disadvantage" it is better to use "limitation of the software".
In order to effectively use these software, firstly you have to be thorough with its features and functionalities. Otherwise, chances of losing data and other technical issues are there. So make sure you attend your corresponding software training before starting playing with any of these tools.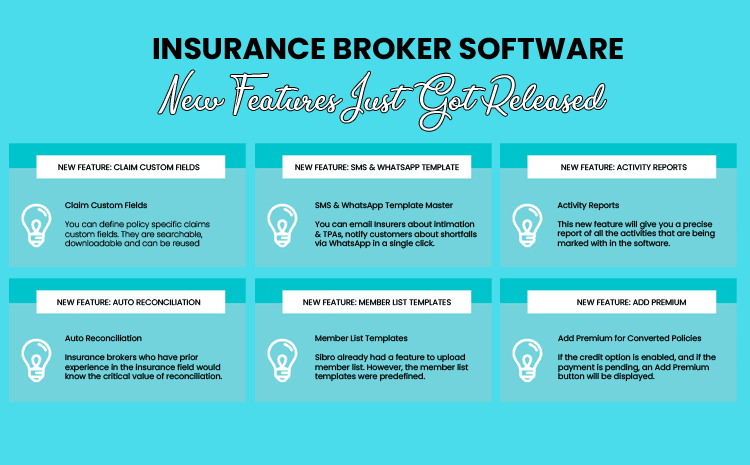 How does insurance broker management software help modern insurance brokers?
The invention of these insurance broker management software has been a huge blessing to these aggressive insurance brokers who are keen to raise their business standards on a continuous basis.
The most common ways these software can be useful to modern insurance brokers are:-
The ability to customize software features helps brokers to personalize their software according to their needs and wants. This will have a high impact on their business automation and auto-reconciliation process.
What are the constraints that insurance brokers have to analyze before purchasing an insurance broker management software?
If you watch closely you will understand that under the flamboyance, under the eye-catching offers and discounts, there relies upon some core aspects that every broker must consider before going for a purchase of insurance broker management software.
What are those attributes? LET'S FIND OUT!
Before going to purchase you have to understand what exactly your business goals are and which software aligns with the same.
You must analyze the software inters of its ability to save your time and effort
You must prioritize user experience than its look and feel
Make sure you ask for a free trial before going to the actual purchase
How much does an insurance broker management system cost?
Different insurance broker management system costs differently. The cost of an insurance broker management software depends on the desired feature set that these software offers. Some may have hundreds of features that are not important for you and some other software offers only a limited set of features but those features will suit your requirements perfectly. So, when you consider the cost factor, what you need to look into these insurance software is, how much they offer in terms of value for your money.
Below are some of the most recommended insurance broker management software that we believe offer the most usable and efficient features for any insurance broker professional.
Which all are the best insurance broker management software?
Let's now check out the most important and effective insurance broker management available in the market right now. Here we are listing the top five best rated insurance broking software that is worth exploring.
This is one of the most recommended insurance broker management software available in the market right now. Sibro insurance broking software offers features such as:-
Provision to manage all your incoming prospects systematically
Ability to follow up and track your prospects
Ability to draft and send insurance quotes directly from the software to your customers
You can create invoices for your clients via this insurance software
Provision to auto-reconcile your invoices and track your payments
This insurance broker software also offers inbuilt email and whatsapp integrations
Overall this helps you to minimize human errors and maximizes broking efficiency
This insurance broker management software helps you work smarter in managing your individual and group insurance policies effectively and efficiently by configuring the software with different insurance companies and products that you are about to partner with.
Ability to create professional insurance quotes, compare them, and performs all activities that come in between
Offers its user standard and statistical reports as required
This broker management software has the ability to connect with insurer systems with ready APIs or EDI methods
This software also allows you to handle endorsements, renewals, cancellations, etc.
This is a CRM for insurance brokers that helps them in handling the existing business activities and also offers the provision to print policies, track renewals, create regulatory reports, etc.
This insurance CRM software offers amazing customization options
SMS and email options (both text and uni-code formats)
Ability to track renewals through notices, emails, messages, etc
Provision to download regulatory reports in multiple formats whenever required
There is no hidden cost and also offers professional post-purchase support
SohamIBM
This is a well-built insurance broker software that helps brokers to automate their business transactions. It offers highly flexible features and functionalities and it is completely easy to learn and use.
The software offers features such as:-
A centralized customer-centric system to manage all your prospective customers
A remote software that is accessible to your comfort anytime, anywhere
Provision to switch languages and currencies
Ability to generate MIS reports when required
Perfectly scalable and secured software for all your insurance broking needs
My Insure Book
This is a cloud platform software for insurance agents and brokers. With the help of this software, you can track all your telesales details, and staff, and assign each of the different tasks accordingly. This insurance software will also give you the provision to upload all your policy documents safely and access the same whenever required.
The features of this insurance agency software are:-
Ability to calculate premium amounts quickly
Ability to track your customer status
Provision to renew policies
Get SMS reminders for upcoming renewals
Schedule important meetings and get noticed for the same
Track all your business documents easily and safely
What are the free insurance broker management software available in the market right now?
As these software are feature rich tools and we can't expect to use them as a freebie. There has to be some cost we always have to pay for using these tech advancements.
But considering the "WITHOUT SOFTWARE" part, it can be understood that having the best insurance broker management software is always the effective solution for managing your insurance broking business irrespective of your location, tax rules, clients' behavior, or any other attributes that we analyze.
Checkout Sibro Insurance Broking Software, one of the most recommended insurance broker management software.