Go mobile! Go remote! Go online! The most common phrase we hear as an insurance professional. Old days of face-to-face meetings and personal interactions have now become a thing of the past. Now everything has become digital, in one way or another.
That's why the importance of choosing an insurance broker software comes into play. Because, if you are still planning to focus on your manual work process without considering the possibilities of tech revolutions, there your mocking at the wrong place at the wrong time.
So, how you choose your best pick, that's the real question. If you dive in deeper you could understand that there are a lot of insurance broker software products available in the market right now. Choosing the best one is one huge task.
But you don't have to worry! This article will walk you through the 10 best tips that will guide you to make a sensible purchase decision in buying the best insurance broker software.
#1: Understand and compare your business goals with software features
The first thing you have to do is list down your major business goals and compare them with the software features that you are about to buy. Analyze them and check whether these features will carry out your business operation and assist you in achieving your business goals ultimately, on a consistent basis.
Here's an example. If you have a requirement that suggests a precise report of all the employees' day-to-day business activities, then you must focus on softwares that offer special features where you can record all the user's day-to-day activities as activity happened date and time, name of the user, and activity name.
Want to know more about the Activity Report Feature, click here
#2: Make sure the software saves you time and optimizes business processes
Time is more valuable than money. So while choosing the best insurance broker software, you must cross-verify whether the software features are really helping your business to save a considerable amount of time and thus optimizes your business processes.
This happens when an insurance broker software has a provision to import policies via the software itself where the user can upload the data via excel and the software automatically returns back with what all rows were imported and if not imported, the reason for it. If you pick a software with these type of features, then it quite evident that you are going to save a lot more of your valuable time.
#3: Prioritize user experience
User experience is such a big aspect. So make sure the software you opt for has enough exciting features that can help you to make life easier for potential insurance brokers. If the software offers transparency and a simple user interface, it is considered the best user experience offered.
What if the software you choose has a feature that, when a new policy is added, edited or imported, the software will auto add all the policies to the custom field if not already added. This is a pure example prioritizing user experience. So choose accordingly.
#4: Make sure you use the free trial to understand the user experience
Being an aggressive insurance broker, prioritizing client meetings, managing upcoming prospects and policies, reviewing claims, reviewing work with employees, project stakeholders and other insurance professionals/executives are all in a day's roster.
The purpose of using the free trial version is to get along with the software and check for yourself whether the features are helping you to minimize your efforts in any of the above-mentioned business aspects that you deal with. During this time you have to cross check the software and make sure it has main features such as ability to import policies directly, ability to track your clients, multi currency support, invoice sorting functionality and a lot similar more.
#5: Closely analyze how the software features will improve your sales
What if an insurance broker software offers the ability to filter and create reports based on individual reasons. So, if you lose a prospect, you will have the provision to mark that prospect/renewal as lost along with the reason.
This is something that will become handy for all insurance brokers. The point is, while choosing your best pick, you have to closely analyze the software features that will help you to enhance your sales and business performance.
Features like Lost Business Reports are simply amazing for this purpose. Click here to know more about mark as lost feature.
#6: Make sure you compare prices of alternate products with the features offered
Price is also a vital component in finalizing your purchase decisions. So put some effort into identifying alternate insurance broker software that matches your requirement and compares the prices. The pricing comparison must focus on the features offered as well as the maintenance cost.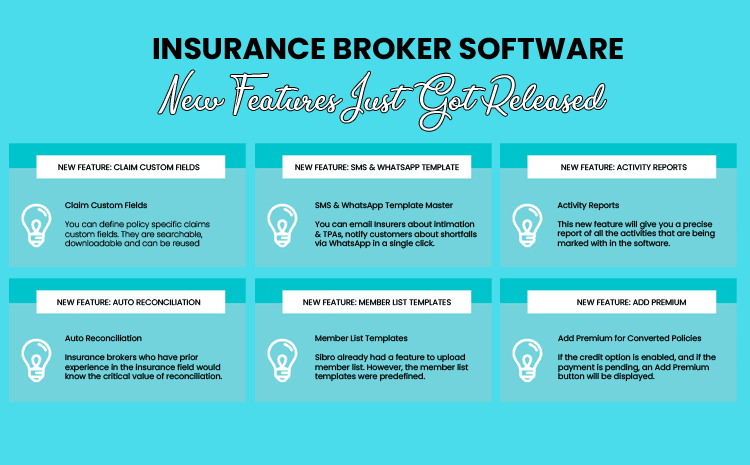 #7: Keep an eye on the hidden charges
This is one of the important aspect that you should keep in mind. When we focus on features and features and features, we may forget the hidden charges that come within it. So make sure you gain enough clarity on those areas become making your purchase.
#8: Make sure the software offers future integration opportunities
The old-time long list data cross-checking has become the stories of the past. Now with the help of the best insurance broker management software, you can simply manage your clients, as well as their respective policies in a well-organized and systematic manner with the least effort and utmost precision. If they also offer integration features, then you must go for it. Because these integration features will help you to expand your business into the next level in future.
#9: Choose software that offers instant communication features
Yeah! You heard it right? Choose an insurance broker software that helps the claim staff to notify their customers via email and WhatsApp right from the software itself.
So, when a query comes, while the staff updates the software, he/she can also email and WhatsApp the customer that his/her claim is queried and the shortfall document needed to be submitted to take the claim process further.
#10: Choose software that offers quality post-purchase assistance
Post-service assistance has to be one of your priority requirements when you speak with your vendor. You have to gain clarity about their post-purchase behavior from other customers that uses the same software. If that is not practically possible, alteast talk to them clearly about what you expect from them post-purchase.
You're in the right place! Checkout Sibro, one of the top-rated insurance broker software.