The insurance industry has been undergoing tremendous changes during the past few years. Digital innovation has transformed the industry massively. When it comes to managing insurance broker business, the manual micro-management process has become outdated. Modern insurance brokers have their futuristic vision and they are so adaptable to the newer modern technologies.
Insurance broker management software is the kingpin.
Being an insurance broker who wants to practice successive client interactions and policy selling, the one and foremost tool available in the market right now is insurance broker management software.
WELL, how this insurance broker management software will help you to win more policies and generate additional revenue? Let's check that!
#1: Insurance broker software helps brokers to create a business identity in the digital world
Digital platforms have now become the easiest point of policy selling. The gap becomes the policy seller and the buyer has become so thin via these platforms. But the market over there is only for those brokers who have that automated business process; the ability to process the client actions through a software.
The idea is quite simple. People started trusting softwares than humans.
So if you can explore the fact that you own one of the top-rated insurance broker management software on different digital platforms, chances of winning more policies in predictable.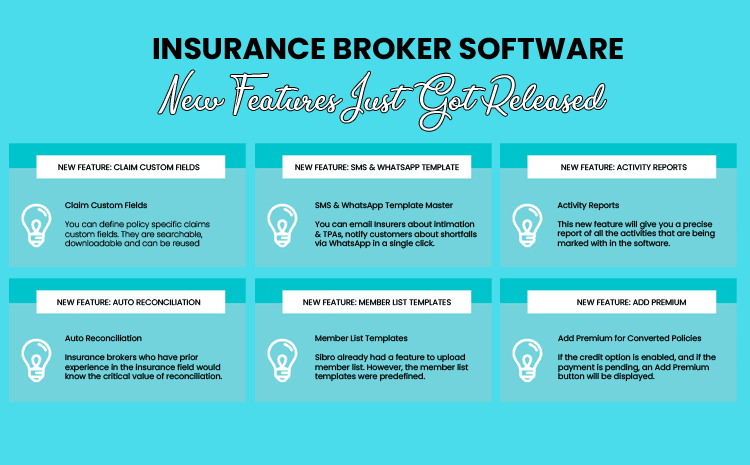 #2: Upholds virtuous salesmanship
Proper salesmanship comes from a seller who practices ethical business practices. If you want to be a virtuous salesman, then you have to micro-manage your business process from prospect management to final claims management. This cannot be done manually on a consistent basis. Of course you need the support of a system or a software to carry out each and every task.
So opting for an insurance broker management software and managing your broker business through it will help you to uphold righteous salesmanship and thus win more and more policies.
#3: Insurance broker management software offers efficient client management
Efficient is a strong word when it comes to insurance client management. Brokers tend to deal with different clients on a daily basis.
Tracking them for successful association and managing them for profitable policy selling is always the hardest task.
What if everything can be dealt with automatically with the help of insurance broker management software? How easy that could be for the clerical team to manage prospective clients and thus create successful business associations.
Think about it. Think about how these magic software can push your business to advanced levels.
#4: Insurance broker software eases your bulk endorsements
Some of the most promising insurance broker software has now come up with an amazing feature to import bulk endorsements. This seems to be such a time-consuming feature for insurance brokers that they can effortlessly carry on with their endorsement process irrespective of its size and depth. These software normally offers a button touch or a simple accessible menu to perform this activity. The process seems pretty simple in its own terms. The point is, the simplicity and accessibility these software offers to the insurance broking micro task management.
#5: Standardize your claims documentation management
Talking about claims!! Well, it isn't always a pleasant business aspect.
Not just because of the process involved, but also because of the long list documentation part. There has to be a lot of paper works to be processed to go forward with a claim. Most of the time, issues happen with missing documents, reordering, the validity of the documents, etc, if this documentation part hasn't been dealt properly.
Insurance broker management offers systematic claims management module where you can easily execute the documentation part with zero human error. The software will take care of the entire process and will notify you if there is anything missing. More successful claims mean more prospective customers. More prospective customers mean more policies.
#6: Automates your accounts department
These software will have customized accounts modules exclusive for insurance brokers where you can auto-reconcile your business statements, send invoices and generate different kinds of business reports. These three aspects join together and act as a catalyst for your business continuity. Financials will be dealt with clarity and transparency will be kept.
#7: Creates a trustworthy image from a customer perspective
When you have all these modern business practices, when the comparison comes between which broker to choose, customers tend to follow your business as you offer a very systematic and organized policy management process. Insurance broker management software plays an important role in building this identity of trust.
So look forward and experience the next generation policy selling with the help of one of the most rated insurance broker management software.
Checkout Sibro, one of the top-rated insurance broker management software.