Insurance broking has its ups and downs. Losing a prospect is also a part of the game. It's all about the perception and attitude towards garbing the next opportunity to shine In the insurance industry. On a positive note, Sibro being one of the best IRDAI compliant broker software offers you a feature called Lost Business Report where you can oversee your future prospects for a productive tomorrow.
You may wonder why you should keep your lost businesses. But if you ask an experienced insurance broker who is a forward thinker, then you will realize how important these lost businesses are for your future business accomplishments. This article will give you a clear picture of the Sibro Lost Business Report feature and its magnitude in having a thriving insurance broking business.
What is Sibro's "Reason for Loss Master" feature?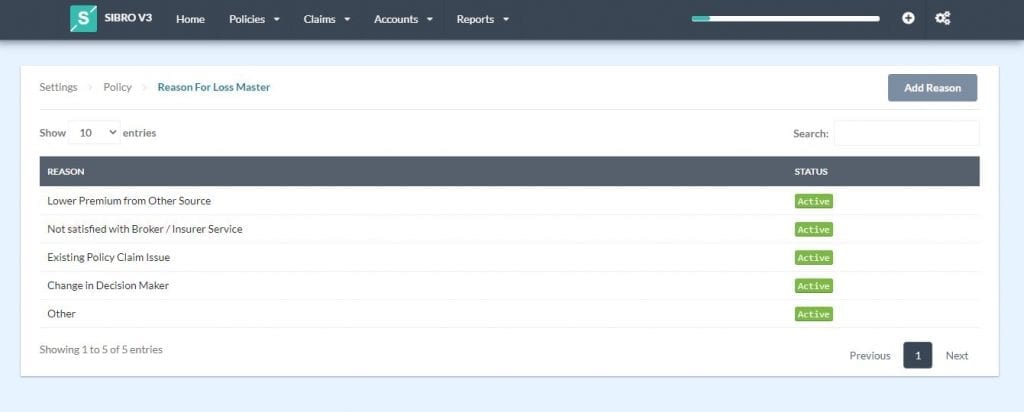 Before going to the lost business report, first, you have to understand what "Reason for lost master" is. If you lose a prospect, Sibro gives you the provision to mark that prospect/renewal as lost along with the corresponding reason for the loss. So, if you're wondering, "Why did you lose that business? The reason will be clearly listed here.
How to add reasons for the business loss?

Sibro gives you the provision to preset the reason that can lead to your business loss. They can be anything like customers choosing other brokers because of different product options or lower premiums etc. You can do this by clicking on the Settings → Policy → Reason for Loss Master → Add Reason. Here you will get a pop up to enter the reason. While you mark a prospect as lost, you will be able to select any of these reasons.
Why Should You Choose SIBRO?
How can you mark a prospect as "Mark as Lost"?
When you lose a prospect, you can mark that prospect as lost by clicking Mark as Lost in this insurance broker management software. Let's see how to do that.
First, click on Policies → Upcoming → Prospect (Click & Expand) → Mark as Lost. A pop up will be displayed asking for stating the reason for your business loss from the drop-down. If you want a reminder next year, you can set the next tentative date and reminder date time and click on Set Reminder else you can click on the Close Prospect Permanently button to close that prospect permanently.
IRDAI COMPLIANT BROKER SOFTWARE
SIBRO offers more than you THINK!
---
We waited until we could do it right. Then we did! Checkout the incredible features of Sibro, the best IRDAI compliant broker software for insurance broking companies in India, Philippines and Botswana.
SEE ALL SIBRO FEATURES
Best Insurance CRM Software for Brokers
What in Lost Business Report?

This report includes the name of the prospect that you lost, policy type, premium size, reason for the loss, and his contact details. If you could closely examine the reasons, then you will get a clear cut idea about how to proceed to the next level and also helps in converting new prospects into successful clients.  
Looking for the best IRDAI compliant broker software?