Why Should You Choose SIBRO?
Sibro offers an array of hands-on features exclusively for insurance brokers for a minimal cost compared to the other alternatives available in the market right now. Let's check out why choosing this insurance broker management software solution will become the most satisfying purchase decision that have ever made.
With Sibro, you can easily manage your policies, claims, accounts, and reports. Sibro helps you to record your business prospects, systematically follow-up your clients, draft instant RFQs/quote slips, prepare professional quote comparisons, record policies and received payments, and eventually helps you to deliver policies and endorsements to the clients on time.
Simplicity
The simple and easy to use interface offered by Sibro helps you navigate through its features and functionalities effortlessly. All features and functionalities are placed so elegantly to increase user experience and reflect an easy to learn look and feel throughout the software.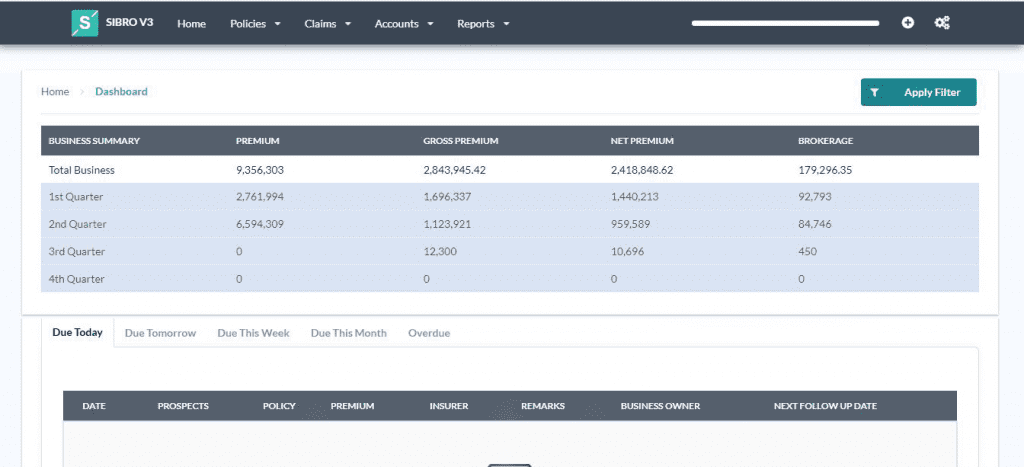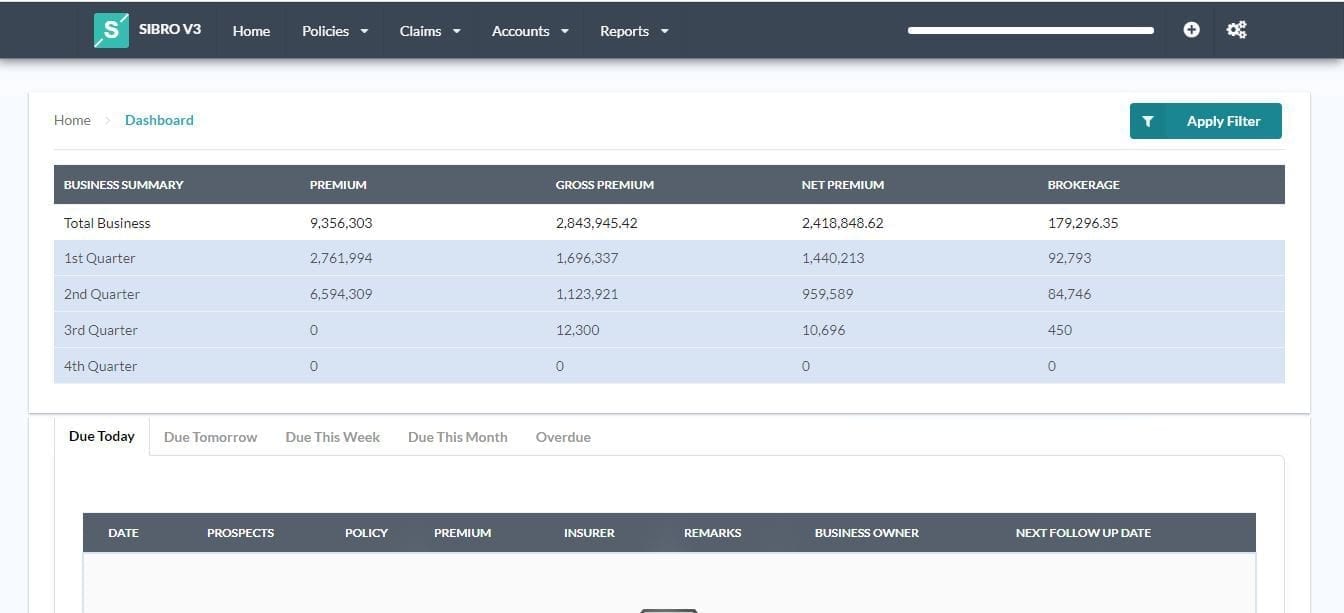 Sibro policies modules are structured precisely to meet the brokers' priory requirements such as managing upcoming businesses, converted policies, installments, and declarations. "Upcoming" deals with all your upcoming prospects and renewals. "Converted" deals with all your booked business. "Installments" are for Monthly, Quarterly, Half Yearly, or Annual Payments; mainly in life. "Declarations" are for Fire or Stock Declaration policies, where you need monthly declaration alerts.
The claims module also helps you to track the status and the turnaround time of every claim that arrives in the software. You can also attach and keep all the documents that your client shares. If there is any shortfall, you will have the provision to inform them directly from the software itself.
Customization
Sibro helps you to create your own customized data entry fields, drops downs, etc as per your own requirements. If you want to capture additional information other than the system captures about the client, a policy, or while recording a claim, you can simply do that by creating an additional text box or drop-down via custom fields.
It is also possible to change the display colors as per your company's color theme. Sibro's translation feature is another highlight where you can translate any data entry fields in your own language which definitely offers you an enhanced user experience.
User Privilege Controls
Everything you see throughout this insurance broker management software solution is user privilege controlled. These privileges help Sibro users to classify feature access accordingly whenever needed. If you allow the privilege to see full company data, then that user will be able to see all the company figures and data. If you have given the privilege to see the branch or team only, then he/she will see your branch or team numbers only. The same privilege settings for other data also, all Sibro users will see only their individual business figures and data as controlled by the admin.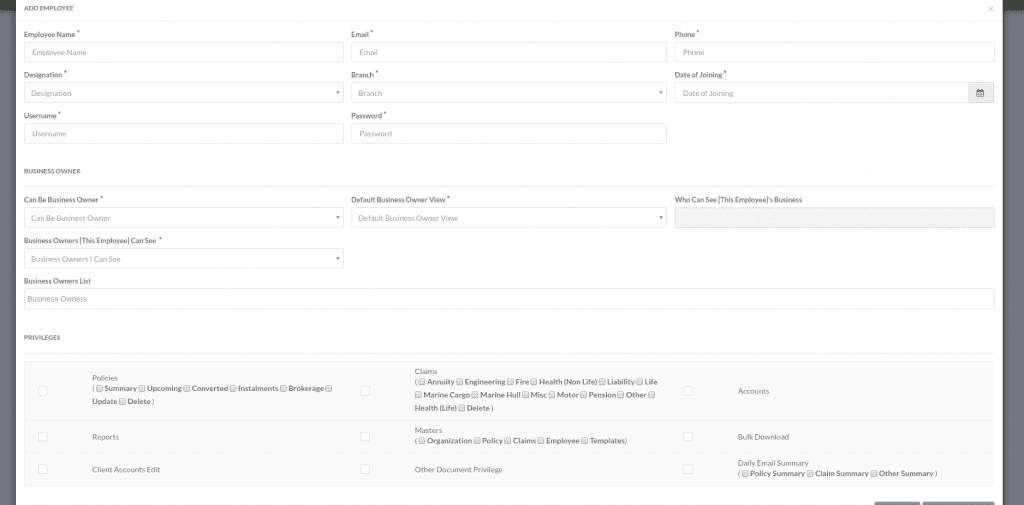 Via Employee Master, you can add all your employees to the system with their respective names, user name, designation, branch, and date of joining, etc. Employee Master mainly consists of three parts such as employee official details, employee business owner details, and employee privileges.
While adding a new employee, apart from the basic employee details, an admin will have the provision to set privileges for the employee by checking/tick marking the different provisions listed. The email added here will be used as the employee's default communication email.
Similarly, for the policies section, you can set privileges for Summary, Upcoming, Converted, Installments, Brokerage, Update, etc. Delete.
In the Claims section, you can set privileges for various classes of policies like Annuity, Engineering, Fire, Health, Liability, Life, Marine Cargo, Marine Hull, Misc, Motor, Pension, Term, etc. Delete claims can be assigned from here.
You can also set privileges for Accounts, Reports, Masters, Bulk Download, Client Accounts Edit, Other Document Privilege, Daily Email Summary, etc.
Email Integration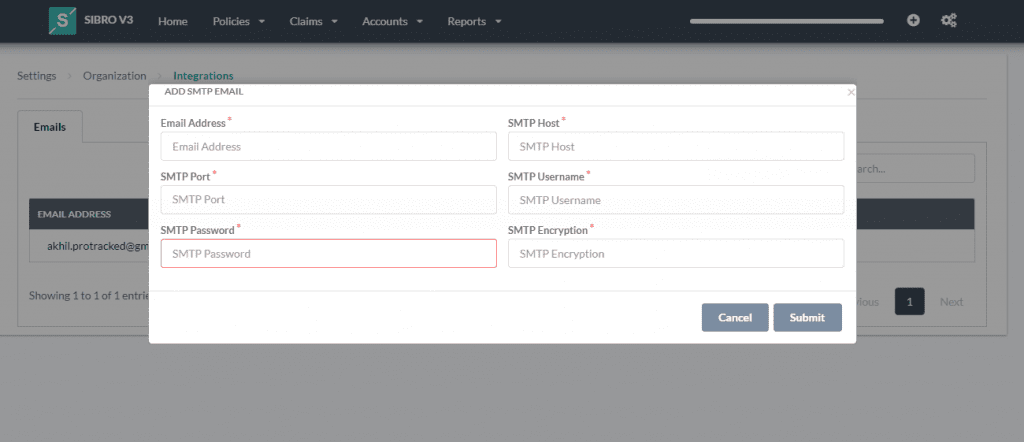 Email templates help you to communicate with your clients via email within the system itself. Here, you can add all the different email templates required for various emailing categories. Sibro offers email integration where you can set up your email and ease your communication process.
Continuous Improvement
If you go deeper, you could see a lot of other features also that will really help your business to stay focused. All features and functionalities are well planned and executed by our experienced team of developers. Every Thursday, we release a new update. All generic updates are free and we charge only for personalized updations.
insurance broker MANAGEMENT software solution
SIBRO offers more than you THINK!
We waited until we could do it right. Then we did! Checkout the incredible features of Sibro, insurance broker management software solution in India, Philippines and Botswana.
SEE ALL SIBRO FEATURES
Explore Sibro Now
Looking for the best insurance broker management software solution?