Are you motivated and prepared to develop your insurance business in this aggressive modern insurance industry. If you've decided to do so, here are five practical pieces of information that you need to know while planning your future steps in the midst of covid crisis.
Know your customer
You have heard this so many times. But have you ever tried to understand what exactly this means when it comes to your business progressions.
It means exactly what it is. You have to know your customer in depth.
It starts with asking questions. Make them talk about their insecurities. Kick off your proactive conversation skills to know more about the customer. Analyze and understand what exactly they need.
When you have a clear picture of their requirements, when you clearly get to know exactly what they wish for, and then you have to market your products. Do it in such a way that the best resolutions for their prevailing problems are the products that you offer. Business conversions are constantly attached to the demands of the clients and how the services match their needs.
Switch to digital marketing
The best way to let the customers know about your services is having a consistent charisma in the social media platforms.
Your website plays an important part.
Having engaging social media presence and an attractive website is the modern day necessities. All of your customers are there on the social media. It's about how you find them and let them know that you offer what they desire. Social media provides many productive ways to market your business. You have to explore to the maximum for improved success rates.
Nurture positive business relationships
Building connections is like laying a robust foundation for your business continuity. You have to find ways to engage more with people who are related to your market segment. Try to attend insurance related seminars, conferences and other similar open meetings. Interact with the attendees. Create a web of healthy relationships. Widening your client base is something that you need to do after enough research and planning. Analyze the frequent concerns and issues faced by your customers. Try to construct solutions for that by offering your products and services. Thus you can build a hearty client relationship and acquire business consistent conversions.
Have your own referral scheme
Whenever you meet a client, make sure you grab at least one reference from him. Make this as a habit. References are the leads for business expansion.
Having a good quality insurance management system will help you to record, organize and track your reference lists. It will notify you when to need to contact them and also give you the previous responses for building conversations.
You never know which reference will bring you a potential client. So keep asking for references and make sure you have your own referral system to follow-up them professionally.
Benefits of having an automated business process
If you are stacked with a manual business operation pattern, they you may find it very hard to meet the expectations of your clients before and after the time of the purchase. Customers have seen enough tech innovations and they demand instant answers to their queries. To provide accurate instant answers you need portable data that can access at any time. If you can automate your end to end policy, claims and employee management, with the additions auto-reconciliation and quality report generation features, you can do wonders in the field of insurance industry.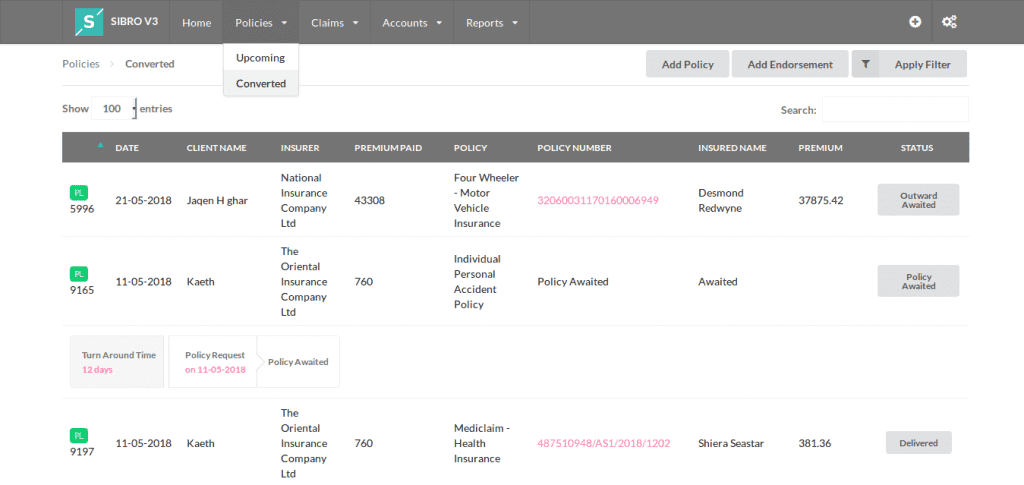 INSURANCE BROKER MANAGEMENT SOFTWARE
SIBRO offers more than you THINK!
We waited until we could do it right. Then we did! Checkout the incredible features of Sibro, the most recommended insurance broker management software in India, Philippines and Botswana..
SEE ALL SIBRO FEATURES
Best Insurance CRM Software for Brokers
Checkout Sibro, the best insurance management software!