As per the latest regulations by The Insurance Regulatory and Development Authority (IRDA) in India, all insurance brokers are advised to use any insurance management software so that it may facilitate better customer service and audits.
This article will walk you through the top 7 best insurance agency/broker software in India.
1. Sibro
If you haven't heard about Sibro in the past, you may be wondering why Sibro stands as the best insurance software in India. Sibro is an all-in-one solution to handle the insurance business. Some CRM companies create and promote software that works for certain companies but not for all. But before creating Sibro, the team have conducted in-depth research on what an insurance broker/agent exactly wants from a software. The features evolved are the result of that. No matter the number of clients you have, you will be aware of each and every stage of policies and claims with the help of Sibro.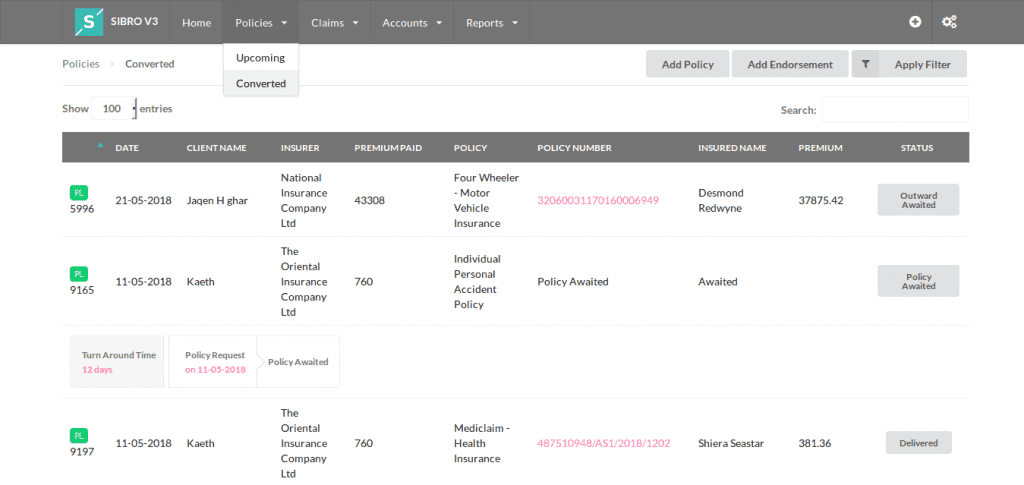 Its benefits are:-
Ability to create and send RFQs to clients directly from the software
In-built emailing and WhatsApp integration. Whatever policies documents or information you want to mail your clients, you can send it simply by a click from the software itself
Keep track of payments of every policy stage whether they are partially or fully paid
Sibro can suggest the documents required for a claim. It can even fetch real-time claim updates via TPA integration.
Ability to create invoices and send directly to clients from the software
Sibro's accounts module systematically corrects mistakes & ensures overdue receivables
Sibro helps you track every receivable invoice and their reconciliation. It also exposes cases where we missed receiving brokerage
Sibro also has a growing list of action-oriented reports; which provides precisely the information you need.
2. Broker Edge
BrokerEdge is an easy-to-configure broker management software that is user-friendly, flexible, scalable, and has the capability to work with multiple insurance companies in conjunction. It is helping them manage administration, client services, underwriting, quote processing, claim processing, CRM, Customer Portal and configurable mobile app. It can manage all classes of the insurance business, namely Property & Casualty lines, special lines, Life, International Health, Employee Benefits, Life Insurance, and more.
Its benefits are:-
Single Unified Customer View
Document Management
Increased Efficiency and Productivity
Better Customer Relationship
Process Automation and Management
Lead Management
3. SAIBA
An end to end solution from CRM to balance sheet. An ERP for insurance brokers which covers almost all aspects of the insurance broking industry. SAIBA is also capable of consolidating all the activities of Insurance Brokers, which helps in retaining the existing business as well as getting new business by providing a handful of information and various analysis support.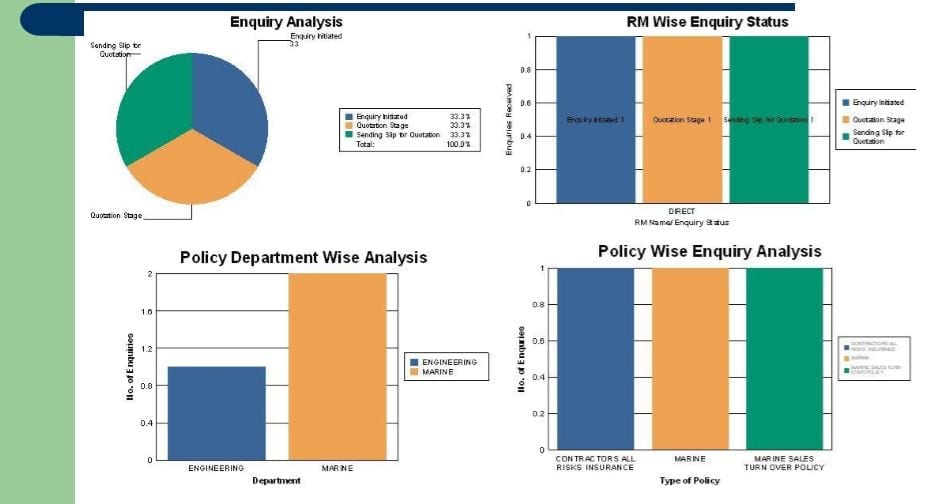 Easily customizable according to needs.
Very user-friendly, minimal training required
SMS & Emails: supports both text and uni-code formats
Print policies, cover notes, stickers, broker slips risk notes, debit notes, credit notes, receipts, etc in your own formats.
Renewal Tracking: State of the art renewal management system through notices, email, and SMS.
Regulatory Reports: Get regulatory reports exactly in the formats required by your regulator, customization free of cost till SLA is in force.
Service & Support: State of the art support service with no hidden cost and active remote support available to the customers during the office hours.
4. Custom Soft
Custom Soft deeply has knowledge of integrating broker software and providing services to many clients with the need for such products across the countries like US, UK, Canada, Australia, and India.
Complete policy administration life cycle including all issues of quotes, binding, rates
Custom Soft delivers the broker software with total front and back-office functionality
Claims management is the main feature gives detailed reports
Completely automated claim settlements services
The billing collection system has flexible and dynamic methods of Payment
Workflow system management keep complete follow-up of all related activities
5. SohamIBM
SohamIBM Broker Software is built exclusively for Insurance Brokers to automate their business transactions. It is a highly flexible and configurable suite of functionalities, dedicated to support and enable the needs of individual brokers and Reinsurance brokers. The Application covers the complete life cycle of brokers business, including customer management, claims registration, reinsurance, treaty management, accounts management, etc.
Easy to use and relatively simple to learn
Centralized customer-centric system
Accessible anytime anywhere
Multi-Lingual and Multi-Currency Support
Automatic generation of MIS reports
Highly Scalable & Secured
6. My Insure Book
MyInsureBook is a cloud platform for Insurance Agents, Brokers, and Corporate Agents. You can track all your Sales Personnel like Tele-Sales, Field Staff, Direct Sales team in the software and assign leads to each of them. Each Policy document can be uploaded into software and kept safely, which you can download and share with your customers anywhere any time in case of Claim or in any emergency.
Premium Calculators
Customer Tracking
Renewal SMS Reminders
Schedule Meetings
Document Tracking
Customer Wishes
7. Openstride IBMS
Insurance Brokerage Management System is built on a mature CRM platform that has been used by small and large insurance brokerage companies alike. This software is installed in the cloud and can be accessed using a browser by multiple users. OpenStrides completely manages the software updates and securely backs up the data. All this comes without the need for any capital investment.
Secure & Password-protected Internet-enabled solution
Record Insurance and Endorsement information
Store policy documents, proposals, claim forms against policy records for easy lookup
Record payments and structure future payments
Record claims against policies for easy referral and to assist in the policy renewal process
Record Brokerages against payments
INSURANCE BROKER MANAGEMENT SOFTWARE
SIBRO offers more than you THINK!
We waited until we could do it right. Then we did! Checkout the incredible features of Sibro, the most recommended insurance broker management software in India, Philippines and Botswana..
SEE ALL SIBRO FEATURES
Best Insurance CRM Software for Brokers
We hope you have got a clear cut idea of the best insurance software available in the market right now. Cross-check the features, understand what you need exactly, and grab your best pick.