Insurance broker management softwares are the whip of modern insurance brokers. Considering the importance and practicality of these softwares towards the insurance broking business, many companies have been coming with similar products. If you are an aggressive insurance broker, you have to be more precise in what you chose.
This article lists down the top insurance broking software in India, Botswana, and the Philippines, its handpicked features, and functionalities.
If you have the eyes to closely evaluate these features and compare them with your business requirements, then you have taken that giant leap in insurance broking. Now it's time to choose a swift, competent, and reasonably priced software for insurance brokers, now it's time to choose your future. Let's begin.
SIBRO
Being one of the best IRDAI compliant broker software, Sibro helps you organize and track prospects management, renewal follow-ups, preparation of RFQs/quote comparison, collecting payments, and delivering policies to customers in order, their endorsements, and more. Sibro's accounts module systematically corrects mistakes & ensures our due receivables. It helps you track every receivable invoice and its reconciliation. It also exposes cases where we missed receiving brokerage.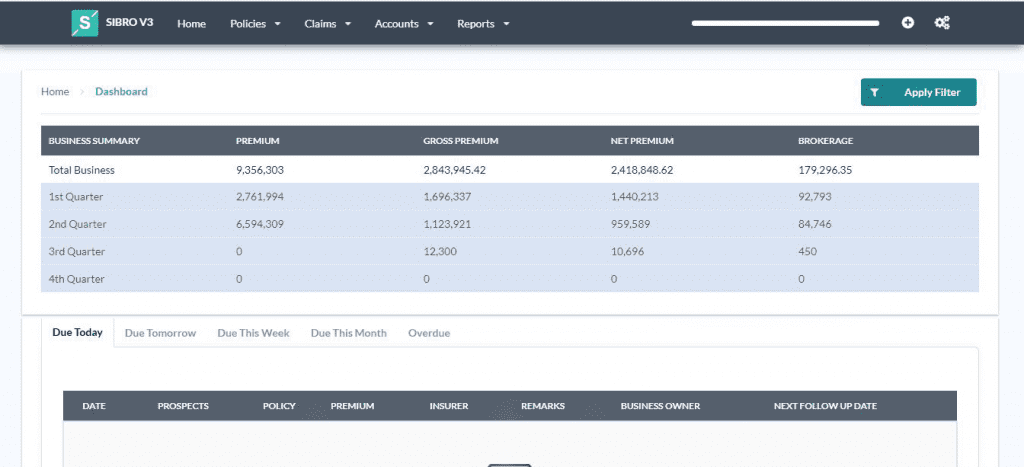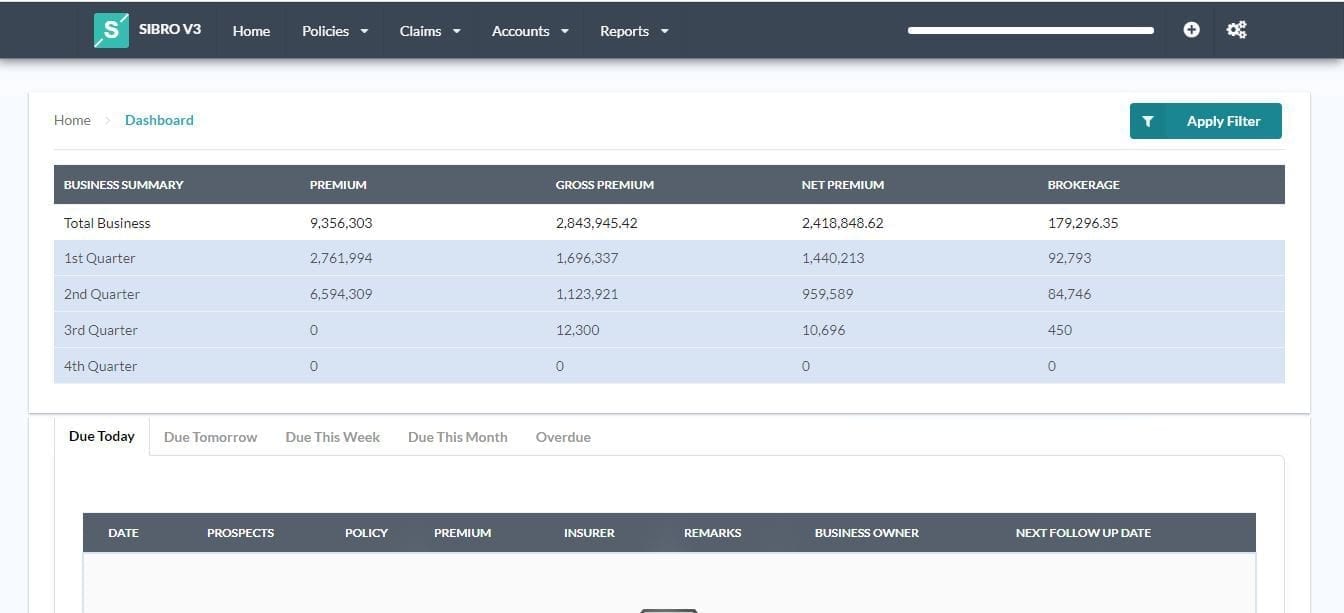 Sibro allows you to upload and save an unlimited amount of policy and claims related documents into the system.
Sibro will remind you about all the pending business with a variety of views like All, Due Today, Due Tomorrow, Due this Week, Overdue, etc
With Sibro, you can translate any data entry fields in your own language whenever you want
You can create and send RFQs to clients directly from the software.
Sibro's claims module not only helps you track but also automates & eases your work.
Sibro has a growing list of action-oriented reports; which provides only the information you need.
Insly
Insly is an easy to use interface for brokers where you can systematically add policies, navigate between clients and corresponding claims, manage invoicing, etc. Insly is completely web-based and that's why you don't need to lose sleep about hosting, backups, etc.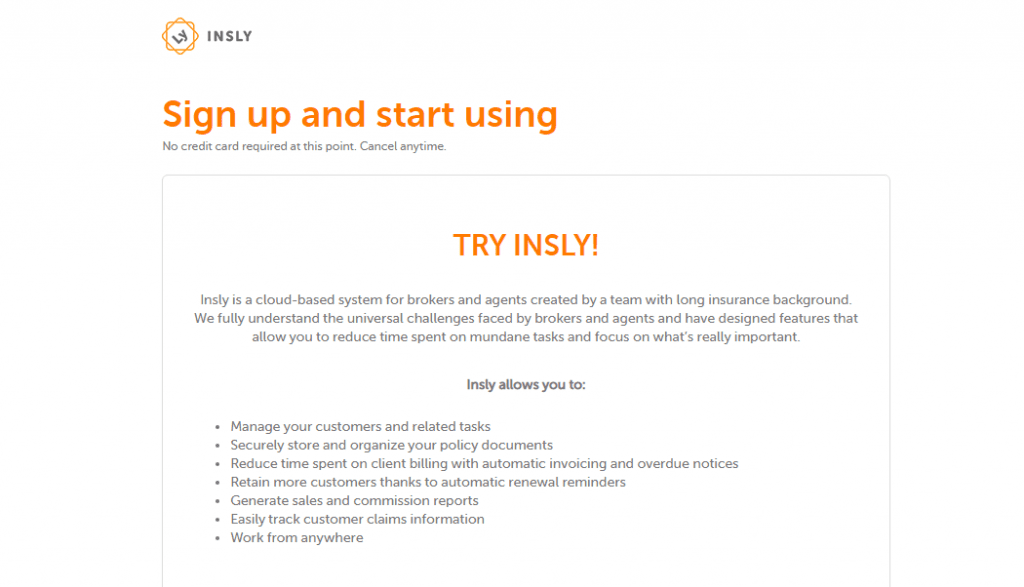 Full-featured policy administration
Performance dashboard to visually track your business growth
Real-time business insights to understand how your business is performing
Insurer reports to know what you owe your insurers
Create and send professional looking client invoices individually, in bulk, etc
i2go Insurance Software Solution
This is robust, cloud insurance software that gives you the power to transform 100% of your business digitally. i2go has all the necessary firepower to scale up your business and can digitalize all your existing insurance processes.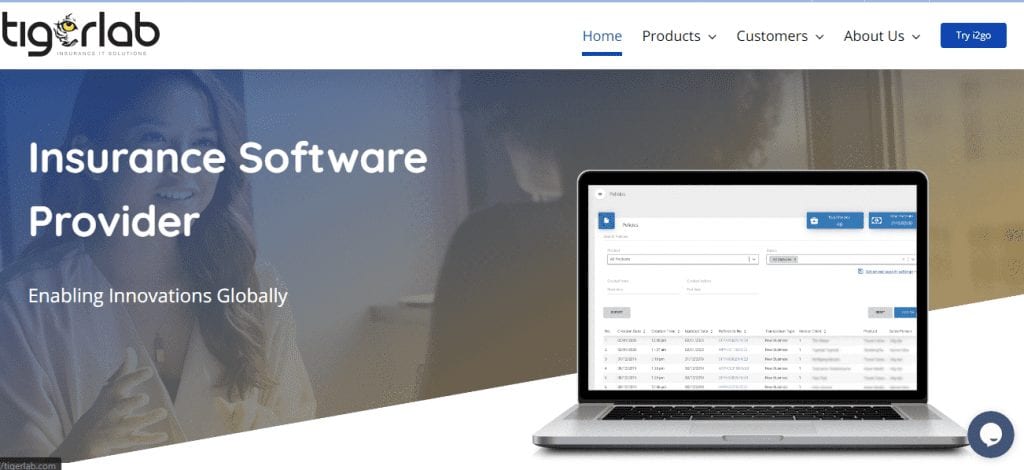 Some of its major features are:-
Automate the entire policy life cycle
Handle the full claim process from FNOL to the repayment for policyholders
Easily add or remove elements to configure products
Track critical information and nicely display it on the dashboard
AdminSeg
AdminSeg is a complete portfolio management system for insurance providers, brokers, agencies, and every professional in the insurance industry to manage their businesses in a professional and efficient manner.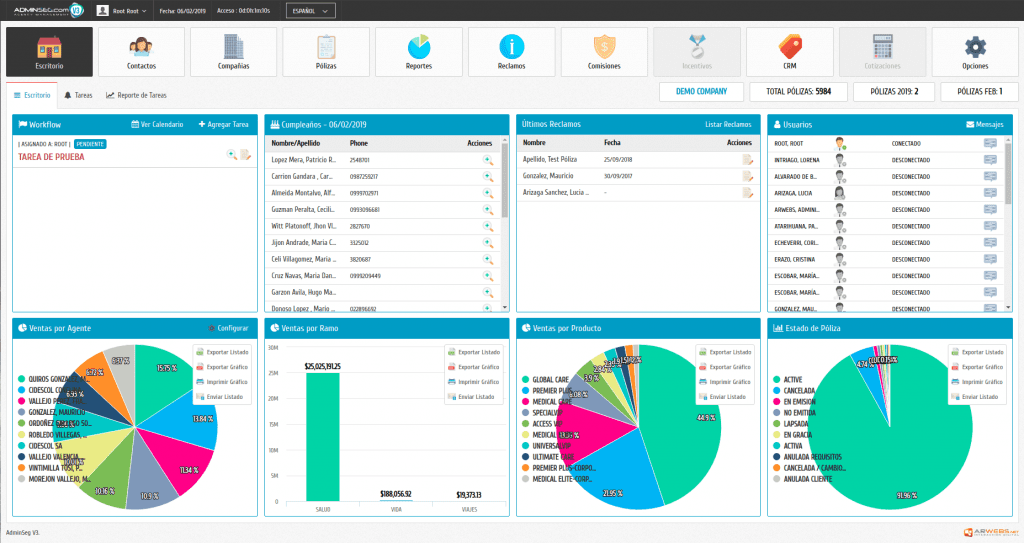 Some of its major features are:-
Advanced design, flexible, adaptable to any use.
Systematic policy administration, generate reports in real-time. renewals, expiration alerts, payments, etc
100% compatibility with accessibility to your information anywhere, any time
Automated reports, receive reports via e-mail: sales, renewals, claims, etc.
SAIBA
SAIBA is a self-service web-based platform for brokers with a single unified view of your customers and offers full support for all types of insurance products. It is easily customizable; an end to end solution from CRM to balance sheet.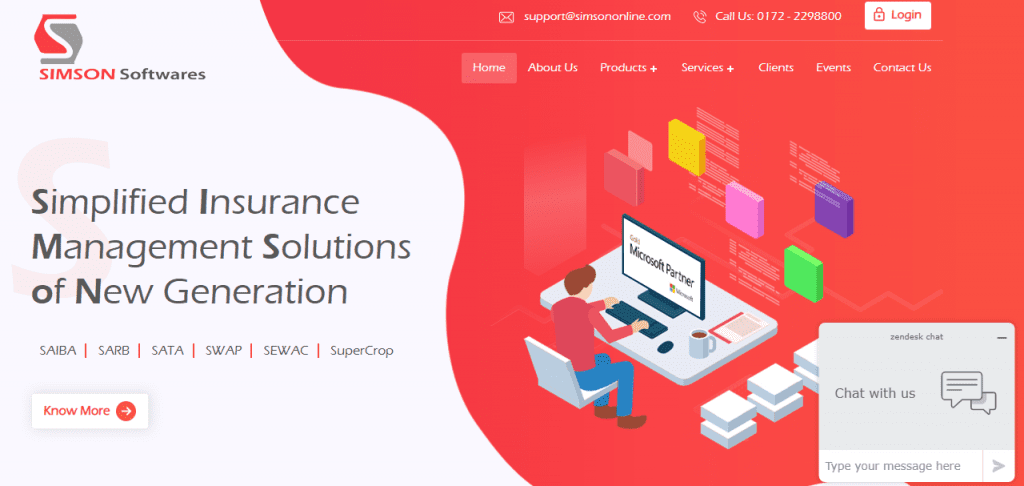 Some of its major features are:-
Print policies, cover notes, stickers, broker slips risk notes, debit notes, credit notes, receipts, etc. in your own formats
Easily customizable according to the requirements
Very user-friendly, minimal training required
Integrated email, SMS, and electronic document management to assist brokers in their day to day business
Looking for the best IRDAI compliant broker software?