Businesses are their processes are always different. Even though they are working on the same domain, even though they are selling the same product or service, it's never going to be the same. In the insurance industry, it is no different. So, for an insurance broking company, if they need to nurture, survive and develop in the aggressive insurance industry, they have to be different in their approach. To become different, to have a cutting edge "X-factor" they have to definitely go with the latest technological inventions that revolve around the insurance industry.
This article gives you the top 10 features that an insurance broker management software must possess.
Easy to use software
A top rated insurance broker management software must have a simple and standard user interface, automated for organizing and tracking every stage of the incoming policies starting from acquiring prospects, renewal follow-ups, preparation of RFQs/quote comparisons, to collecting payments and delivering policies to customers in order.
High-end customization options
These handpicked insurance broker softwares must own the capability to create personalized and customized data entry fields drop downs etc as per the client's requirements. Apart from these, some of the best insurance agency broker management software also offers high-end customization options to suit their client's business processes such as multi-color theme options, multiple language translation feature, ability to create document checklist for claims etc.
Self-explanatory
It doesn't matter whether these softwares offer enough training sessions post-purchase, but a best insurance broker software must be completely self-explanatory enough to understand its features and functionalities so easily.
Cost-effective
An ideal CRM software for insurance brokers must not only offer quality and feasible features but also have to be cost-effective. The subscription packages they offer must be cost-effective considering the depth of features stacked with the software. They should be more focused on the value their clients gain with the software rather then the monetary cost factor.
Instant onboarding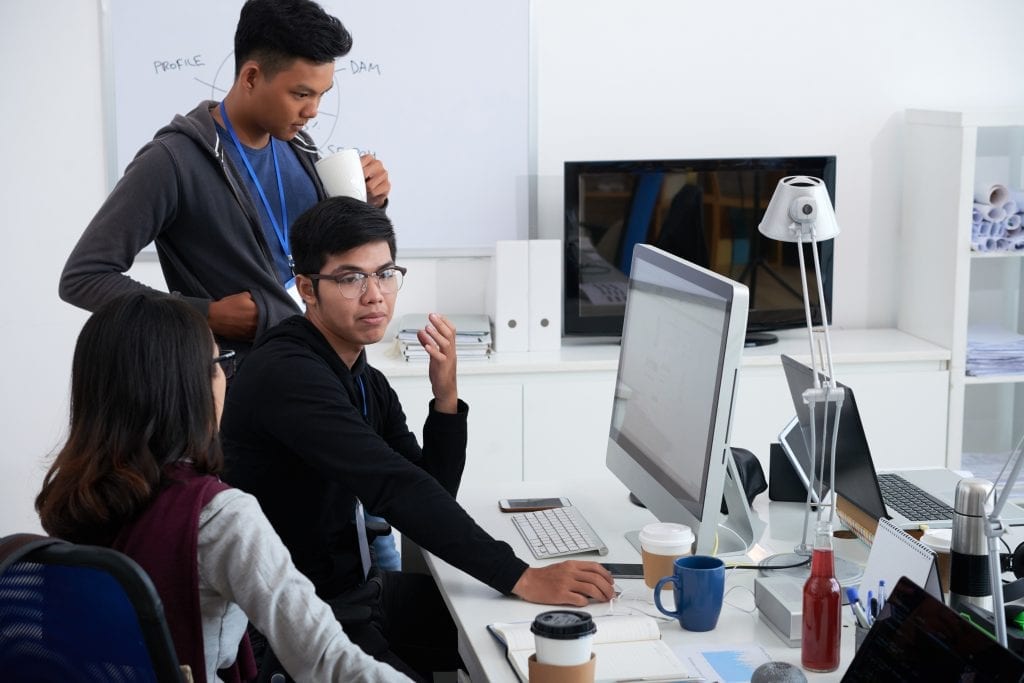 On-boarding is one of the important aspects of any best insurance agency broker management software. The product support team must provide detailed and systematic training to its clients and make sure they have understood the features and functionalities of the insurance broker software well and good.
Bulk Data Import
Previous/old data import is always a tedious task. A top-rated insurance broker management software is expected to have inbuilt functionality to import bulk data to the software. This feature will definitely ease the onboarding process to a greater extent.
All-in-one Dashboard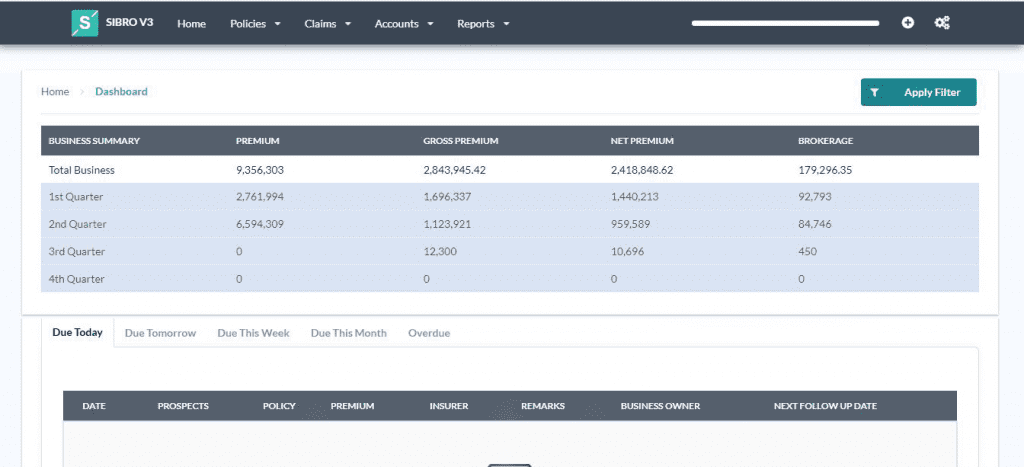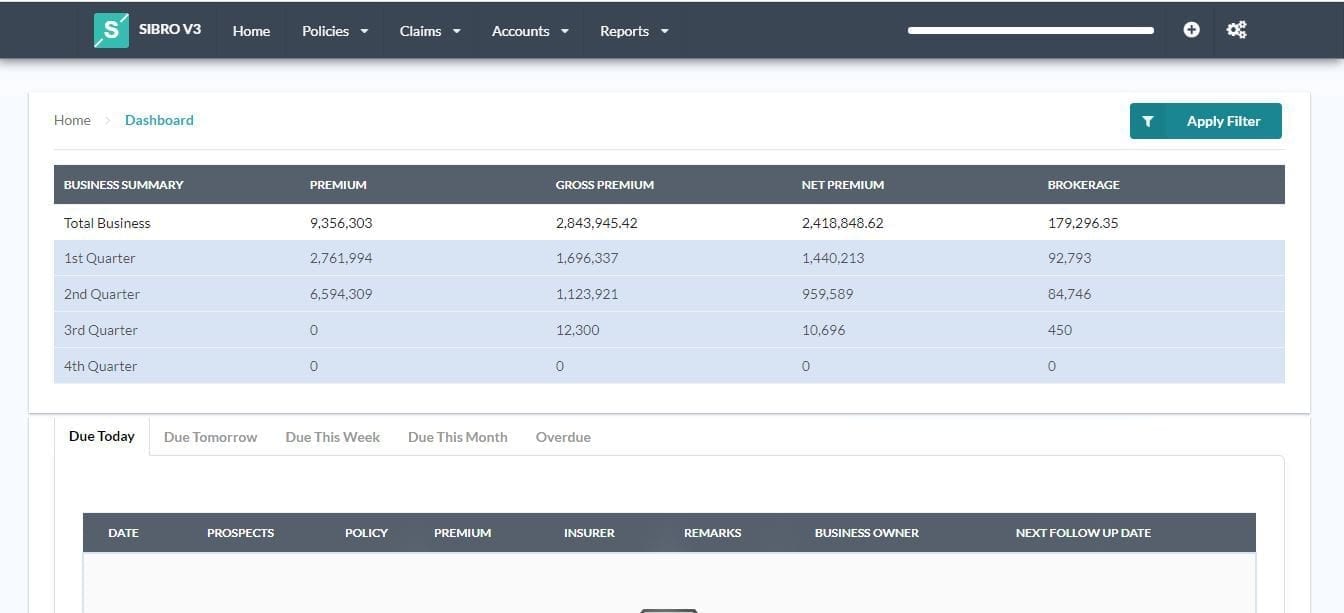 Standard insurance broker management softwares must give you an overall picture of your entire business recorded in the software in terms of prospects, policies, and claims, etc on a single optimized view. The best insurance broker software will also give you the statistical figures of your total gross premium, net premium, and also the brokerages received.
Auto-reconciliation
If an insurance broker management software is supposed to tagged as one of the best ones, then it must have a mandatory feature called auto-reconciliation. This feature will help you to find if there are any irregularities or any mismatch in the amount raised so that you can issue a debit note or else manually follow up until the amount gets settled.
Get automated reports
These softwares must offers effective sets of reports that help you see the status, compare performance, and drive sales for future business prospects.
Continuous Support
A perfectly shaped software for insurance brokers must offer continuous post-purchase support as well as release regular updates to its clients. If the generic updates are free, then the choice becomes more exciting.
Looking for the best insurance broker software?