Every insurance broker has their own way of doing things. Their ability of insurance broking depends on a variety of factors. The majority of them are measured in terms of their attitude towards insurance selling, body language, knowledge about the industry and the products that they deal with, capability in handling customers, and a lot of other factors that contribute to it. These reflect in the workflow they practice-the activities they perform then vary from broker to broker, client to client, policy to policy, and claim to claim.
What is a workflow in insurance broking?
Insurance process models (you may hear them called workflows or flow charts) layout each work step in a specific process to identify improvements to employee productivity, customer experience, and/or risk management. Insurance broking workflow is a pre-defined order of work that elaborates each and every step of your day-to-day activities to analyze, record, track and forecast your insurance broking business in terms of employee productivity, policy and sales management, and customer satisfaction
What is the core process in an insurance broking company?
Core functions for a life insurer vary from company to company and across lines of business but typically include product development, pricing, underwriting, and distribution—items that provide potential differentiation from its competitors. The core business functions of an insurance broking company change from one company to another as they are independent and deal with different variety of insurance products. Major areas they focus on are prospects management, policy distribution, retaining customers, nurturing a healthy relationship with their insurers, and effective claims management. Even though these factors vary considerably, if we simplify the entire process, it is possible to generalize some practices every insurance broker deal with. If you are a newbie to the insurance business, take note of this to standardize your organization.
This article will explain the workflow of an insurance broker. These steps will be useful for both beginners as well as experienced insurance brokers. If you are a newbie to the insurance business, take note of this to standardize your organization. If you are already an expert, then take a quick look and make sure you are doing it right. Let's dive into the detailed workflow of an insurance broker.
#1: Managing incoming prospects
Potential prospects are one of the most craving recipes of every modern insurance broker. You may find a number of ways to advertise the policies you offer. But managing your incoming customer is such an important task. Being a responsible insurance broker you have to take care of each and every insurance broker that you deal with equal consideration. Prioritizing your customers publicly is not a handsome practice.
This can be dealt with so efficiently if you have insurance broking software that runs for you. The latest software for insurance brokers can manage your incoming leads in such a way that all the data can be recorded in the software and the software itself get back to you on when to follow up with a potential client.
So we have our prospects in place. NOW, WHAT'S NEXT?
#2: Sending personalized quotations
Now it's time to do business. Create and send them customized insurance quotes. The steps include creating requests for quotes, sending them to various insurers, sharing the quote slip with prospects, and choosing the best policy. People appreciate multiple choices whenever they are prompted to choose one. If you are using an insurance broker software that has an RFQ management feature then you no need to create manual quotes for different prospects. The software will create instant RFQs, multiple personalized quotations, quote comparison sheets, etc. for different customers within no time. This makes it easier for you to send and manage different quotations simultaneously. This contributes to the second step.
BEST INSURANCE BROKER MANAGEMENT SOFTWARE
SIBRO offers more than you THINK!
We waited until we could do it right. Then we did! Checkout the incredible features of Sibro, the best software for insurance broking companies in India, Philippines and Botswana.
SEE ALL SIBRO FEATURES
Best Insurance CRM Software for Brokers
#3: Policy Management
Once the business is converted, a policy has to be issued and payment has to be made. The steps followed are collecting required KYC details from the customer, preparing for policy requests, requesting policies from the insurers, waiting for documents, and handing over the policy document to the client. Also, it has to be tracked until the customer sends an acknowledgment after receiving the policy document.

#4: Managing premiums
Managing premiums is always something that has to be done with 100% transparency. Problems might occur due to many reasons – Payment can be missed out during bulk transactions or might forget to request all policies. In order to ensure the best quality of customer service, this should be taken care of as a high priority. These activities can be monitored and tracked systematically with the help of an insurance broker software so easily.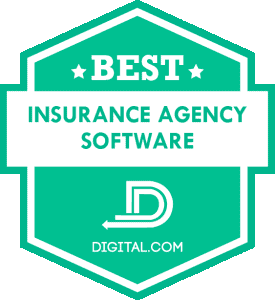 Record, Track, and Manage your Prospects with Sibro's Prospects Management Feature
Sibro's prospects management feature and its implication to the insurance broking business.
KNOW MORE
#5: Accounts management
Accounting is such a tedious task when it comes to insurance. You have to deal with a pile of documents to track down each and every transaction. There is a list of activities that have to be taken care of in this area of work:-
Track down all the expenses
Manage premium amounts
Manage commission from insurers
Create invoices and track them
Track down missed payments
Talk to our experts about the best insurance broker software