Once you have started using Sibro, you are not only managing your policies, claims, and renewals but also you are scaling the business faster than before. Because Sibro helps you become organized and productive about every task. It continuously reminds you about all tasks that are due today, tomorrow, this week, this month, overdue.
To help you realize the progress in a better way, we have created 'Daily Task Progress' which means that it will display the daily status of your work. It will show the pending renewals, prospects, follow ups, aging claims, and accounts. You can see what you have done today and what has to be done after. In short, the software will give you the work summary for each day. Thus, you will be able to see and improve your progress. The best thing about this feature is that a person can see others' progress based upon user privileges. That is, a business owner can see all his employees' daily task summary if the user privileges are set.
Where do you find 'Daily Task Progress'?
You will find the white line on the header which is highlighted on the below image.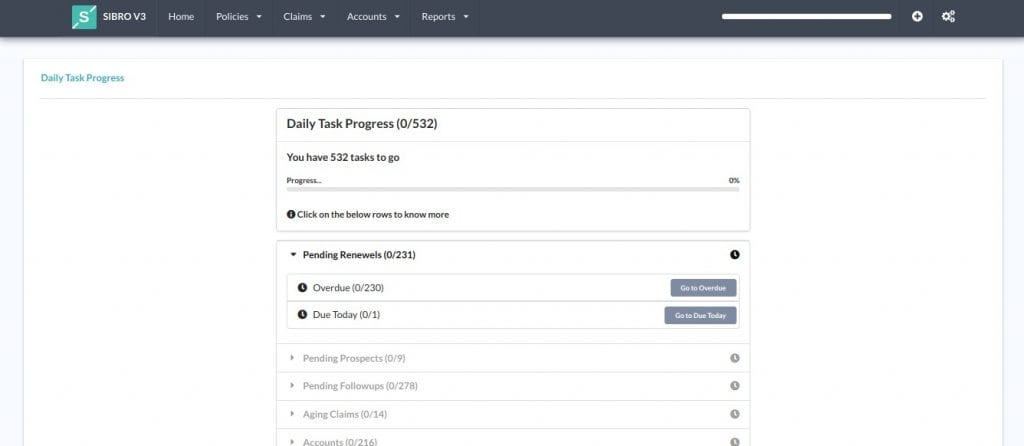 Click on it and the summary page will appear as shown below. As you start finishing your tasks, the progress bar will move from 0 to 100%. Trust me, it would feel so great and satisfying to see as the percentage increases. In addition to that, you will see a few rows that contain pending renewals, prospects, and more. When you click on any row, it will display the tasks that are pending and due today in your organization.